As a Proven Top Producing Agent with over 15+ years experience, I am looking to expand my Real Estate Team.
I have immediate openings and am willing to train the right person. Call me if you are serious about taking your career to a new level. Don't just take my word for it, hear what some of the agents on my team are saying: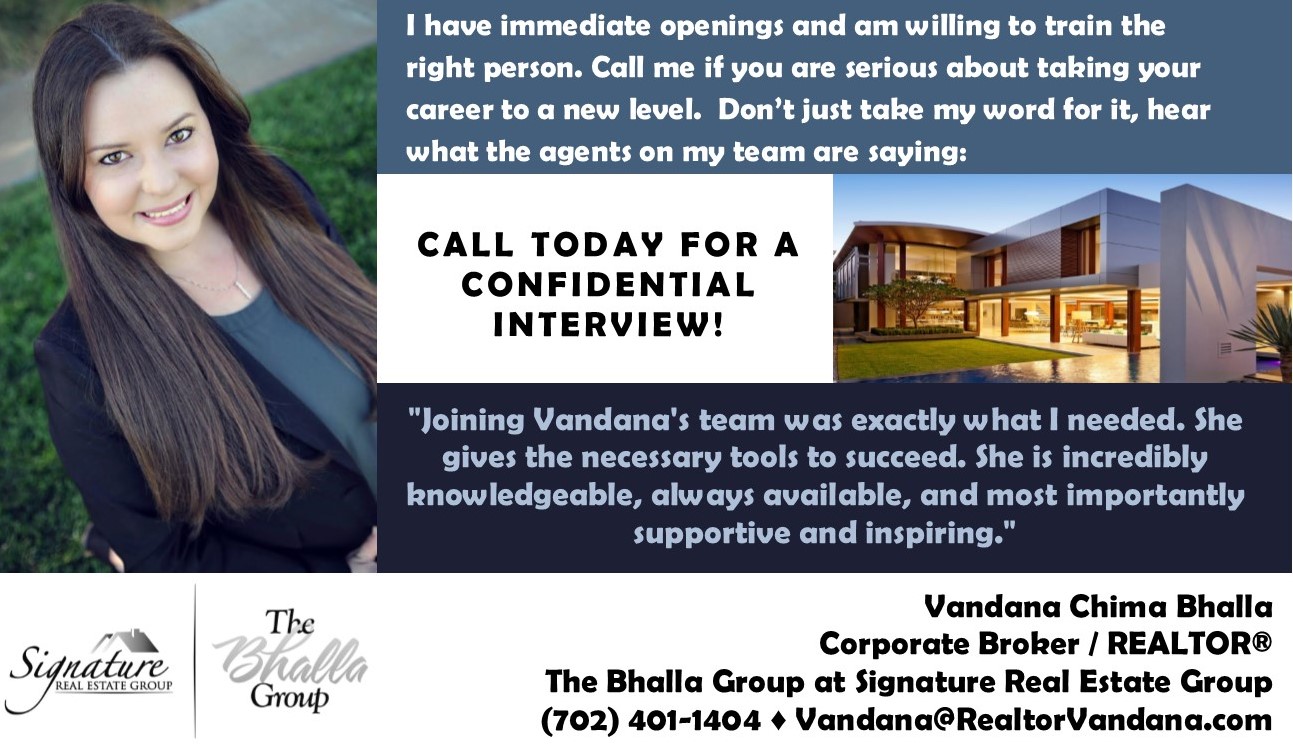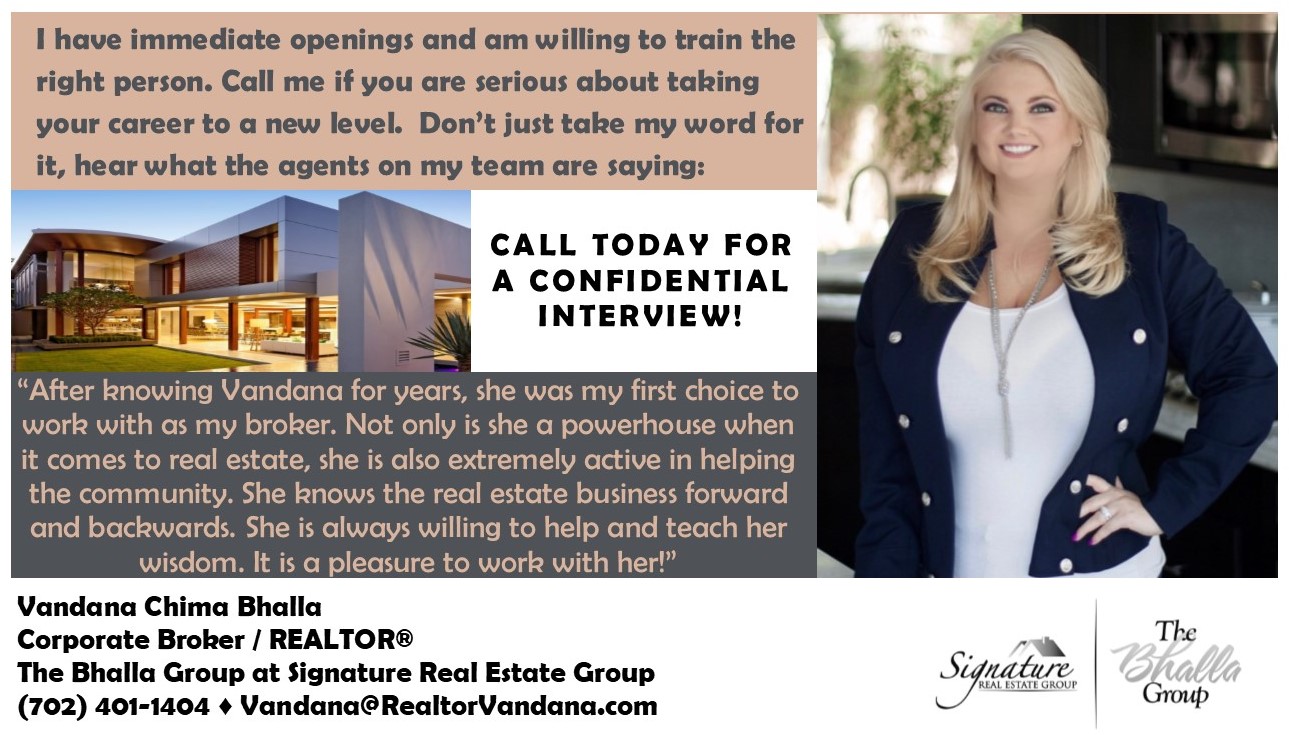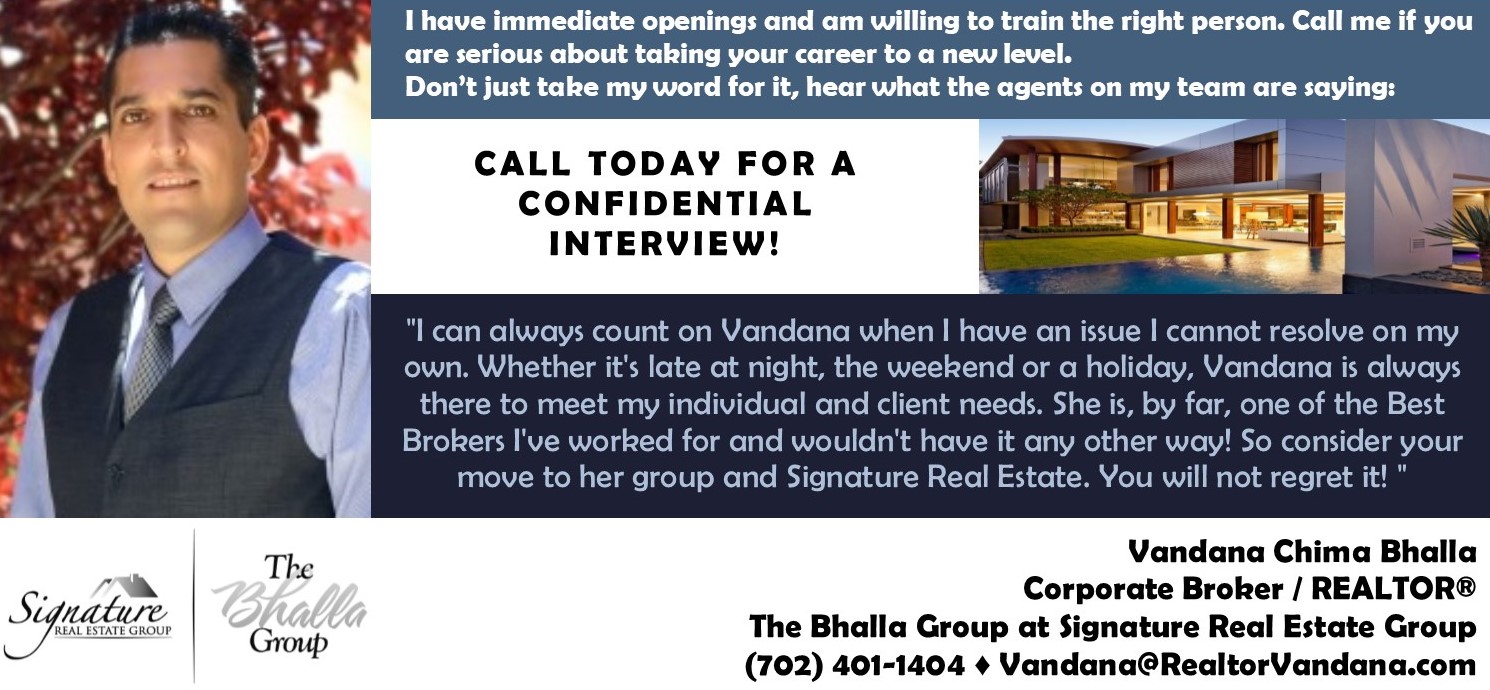 "Vandana was known for being an excellent teacher and producing top Realtors. As soon as I met with Vandana, I was impressed by her honesty and professionalism. The main thing was I felt I could trust her no matter what and I don't regret my decision at all. I really enjoy getting to work with Vandana and being mentored by her. Vandana is an excellent, thorough, understanding and patient mentor, and truly has a desire to help others succeed. I look forward to being successful in Real Estate with The Bhalla Group at Signature Real Estate Group."
Dennis S
"I am so happy I joined your team because, you are the best broker I have worked with since I have been in the business. I started in 1995, left the industry for 5 years in 2007 & returned in 2012. I have struggled to rebuild my business with little broker support until I joined your team. Your support and belief in me has helped me regain my confidence in myself and my capabilities as an agent. You have helped energize my career in such a way that I know I can compete with the best our industry has to offer. You are smart, creative, approachable, energetic, compassionate, flexible, fun to work with and a master at leading. I would and do highly recommend you to anyone in the industry and know that you are very highly qualified to help me grow my business as well as help me to protect my license."
Kathy B.
"I was extremely fortunate that I was referred to Vandana when I first got my license as a REALTOR. I interviewed a number of brokers including Vandana and I knew without a doubt that I would learn a lot from her and build a thriving real estate business like hers. A year and half later I can attest that joining her team was one of the best decisions I made for my business. She is readily available for questions and advice, she is creative with her marketing approach and shares all of her tools and knowledge that she has gained. She has been my advocate and support system. She has given me guidance in my career even now as I move to the next level. Vandana goes above and beyond as a broker and team leader. I have no doubt that anyone that joins her team, follows her advice and works hard will meet and exceed their goals - I have!"
Heather M.
It's been 3 months since I joined Signature Real Estate Group and more importantly, Vandana Chima-Bhalla's Team. First, let me begin by saying I couldn't be more happy with my decision to join her Team. My only regret is not doing so sooner! I'm in my first year as a Real Estate Agent and this is my third Broker. I can say with confidence, I've found a home.
I have been a part of a mentorship program in which the company boasts to having the most extensive training in the market, at a cost of 20% of my commissions. I have been with a smaller Agency in hopes of getting the individual training and mentorship I so desired. It wasn't until I joined Vandana's Team that I was able to get the attention and mentorship I had been seeking.
With Vandana's support and guidance my Real Estate career has really began to flourish. I can honestly call it a Real Estate career now as I see a long and financially rewarding road ahead of me. As soon as day one with Vandana, I immediately began picking her brain. I was constantly calling, texting and emailing her, asking her the answers to questions which I had asked others before her but never receiving the answers. Vandana was patient with me and very prompt in her replies, regardless of the time. Yes, I have swapped emails and texts with her as late as
1:00 AM
!
V as I call her, promotes an environment in which "there are no stupid questions". We've all been in situations where we've wanted to ask a question but didn't out of fear of looking incompetent. Not the case with V. She's more than just someone who answers questions though. V has helped me with a very important investor/client of mine. Locating an investment property to purchase and working with me throughout the entire process. To this day, she still consults with me when she comes across a property that she feels may interest my investor. V is nurturing and does everything possible to pass along her extensive real estate knowledge which has taken her years to obtain. Working on Vandana's Team is like having the Cliff Notes on how to have a successful real estate career right at your fingertips.
In closing, if you're looking for growth and maximizing your potential in your Real Estate career, look no further, Vandana Chima-Bhalla will get you to where you want to be!
Jim S
My team at Signature Real Estate Group is growing. Come find out why. I look forward to meeting with you.